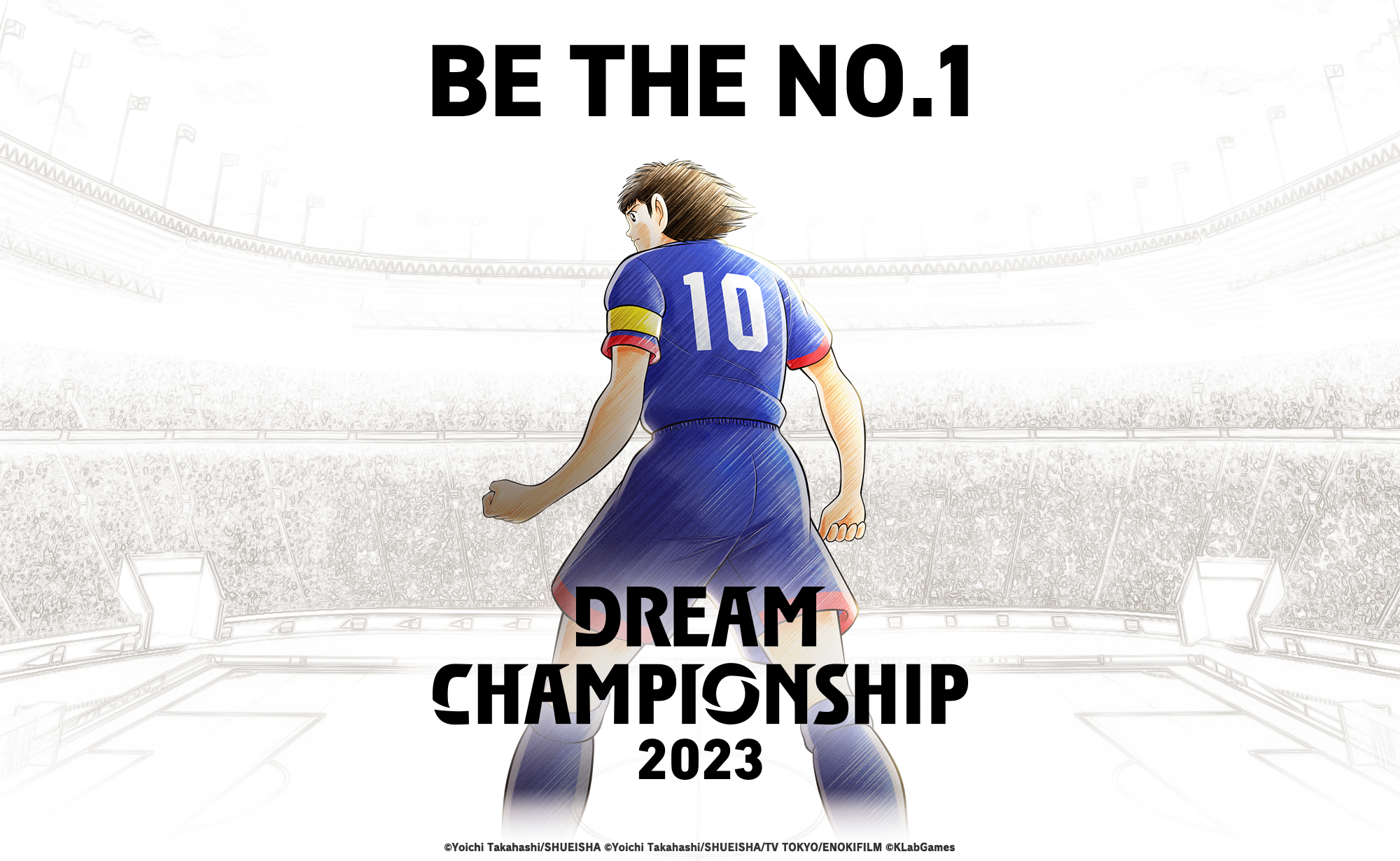 Scroll for more
ABOUT
What is the DREAM CHAMPIONSHIP?
The Tournament to Decide the World's No. 1 Player
The "DREAM CHAMPIONSHIP 2023 (DCS2023)" is finally here to decide the world's No.1 player of "Captain Tsubasa: Dream Team" — a hit football simulation game with 45 million downloads worldwide!

Let's enjoy together this friendly competition for the honour of being the world's best player!
Tournament Summary
Schedule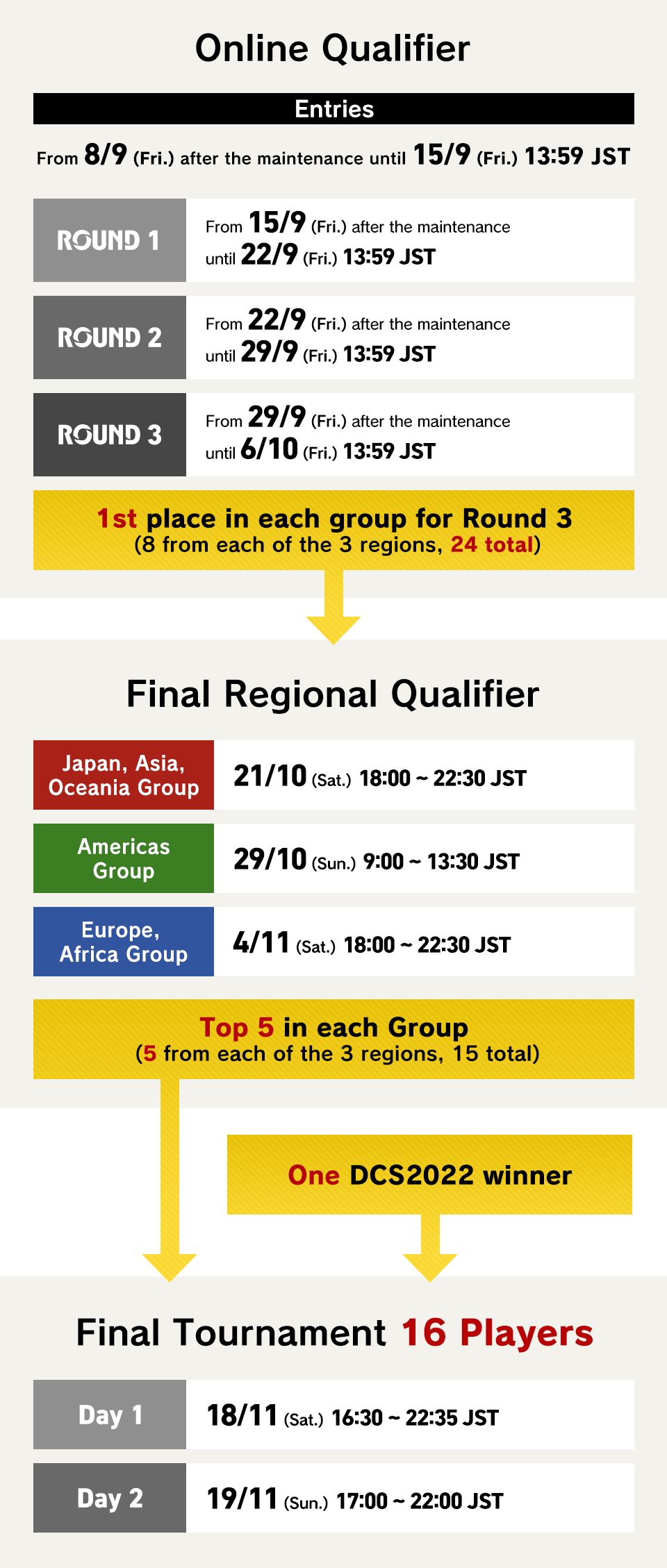 Prizes
Final Tournament
All Participants

In-game Kit (Home + GK)
* Main color is selectable

More than

20

kit colours for outfield players!

* Partial selection of options

And

8

colour patterns for goalkeepers!

In-game Stadium (Final Tournament-specific)

In-game Ball (Final Tournament-specific)

Captain Tsubasa Merchandise Assorted Box
(Prize for participating in the Final Tournament)
* Content subject to change

Original canvas print
signed by artist Yoichi Takahashi

DCS2023 Exclusive T-Shirt Set

Exclusive Towel

Exclusive Enamel Mug

Snapback [Genzo Wakabayashi]

Captain Tsubasa Kutani-yaki Small Plate
* Only one of any type (patterns are not selectable)
Winner

The tournament trophy

Specially drawn illustration by Yoichi Takahashi.

Special Champion-Only In-Game SSR Player ×5

In-game Kit (Home + GK)
(Winner-specific)
Emblem and other decorative elements added to the champion's kit!
* Main color is selectable

In-game Stadium (Winner-specific)

In-game Ball (Winner-specific)

In-game Badge (Winner-specific)
2nd Place Prizewinner

2nd place medal

In-game Stadium (2nd place-specific)

In-game Ball (2nd place-specific)

In-game Badge (2nd place-specific)
3rd Place Prizewinner

3rd place medal

In-game Stadium (3rd place-specific)

In-game Ball (3rd place-specific)

In-game Badge (3rd place-specific)
4th - 16th Place (BEST 16)

In-game Stadium (BEST 16-specific)

In-game Badge (BEST 16-specific)
Final Regional Qualifier
All Participants

In-game Ball
(Final Regional Qualifiers participants only)
Japan, Asia, Oceania
Group participants only

Exclusive T-Shirt
* The design may be subject to change at any time without prior notice.

In-game Kit (Home + GK)

In-game Badge
(1st Place 2nd Place 3rd Place BEST 8)
Americas
Group participants only

Exclusive T-Shirt
* The design may be subject to change at any time without prior notice.

In-game Kit (Home + GK)

In-game Badge
(1st Place 2nd Place 3rd Place BEST 8)
Europe, Africa
Group participants only

Exclusive T-Shirt
* The design may be subject to change at any time without prior notice.

In-game Kit (Home + GK)

In-game Badge
(1st Place 2nd Place 3rd Place BEST 8)
Online Qualifier
Group 1st place in Round 3

In-Game Badge

×50

Dreamball

×16

Tamotsu Ide

×500

Black Ball (SSR)

×100000

Online Medal
Group 1st place in Round 2

In-Game Badge

×25

Dreamball

×4

Tamotsu Ide

×250

Black Ball (SSR)

×50000

Online Medal
Group 1st place in Round 1

In-Game Badge

×25

Dreamball

×4

Tamotsu Ide

×250

Black Ball (SSR)

×50000

Online Medal
Match Rewards by Round

Rewards are awarded for playing until the end of a match.
The rewards vary depending on the result of the match.

Win

×5

Dreamball

Defeat or draw on match

×1

Dreamball
Terms of the Championship Tournament
Final Tournament